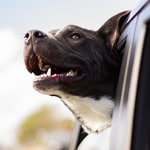 Lynchburg Mazda has a staff of employees that love their pets, and we love to travel around Lynchburg, VA with our pets. Regardless of what type of vehicle you own, it can be difficult to take your beloved fur family on a trip with you. Thankfully, we have some tips that we've gathered together from our staff members.
-Plan your route out ahead of time. Plan out the places that you can stop to let your pets use the bathroom and stretch their legs a bit.
-Make sure that you have plenty of water; especially if you'll be traveling in the summer when it's very hot outside.
-Tire your pets out before you leave for your trip. Letting them run around or go for a long walk will help keep their energy levels contained for the ride.
-Give them a comfortable place to relax inside of your vehicle.