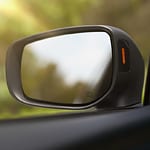 It is essential to pay attention to your blind spot when driving. Unfortunately, it is not a good idea to take your eyes off the road in front of you to check your blind spot. A blind-spot monitor will help you detect vehicles you cannot see in your rear-view mirror or side mirrors. It will also warn you if you are veering too far into the adjacent lane.
A blind-spot monitor can reduce your stress and prevent crashes by allowing you to react to the dangers faster. It uses cameras and radars to detect other cars and trucks around you. These sensors transmit information to a computer that triggers an alert when a vehicle is in your vehicle's blind spot. In addition, some systems will engage your brakes or steering wheel when you approach a car in your blind spot.
When you visit Lynchburg Mazda in Lynchburg, VA, you will notice all our vehicles have a blind spot monitoring system.